"The March 2 opening for the artwork of DanceSafe's graphic designer Jason Justice went off with a great turnout. According to curators at the Thoreau Galleries in San Francisco, the event attracted more people than any other single-artist opening they had ever hosted."
— DanceSafe

"I loved the exhibit at the Thoreau Center, where I work. The postcards were just spectacular, wonderfully creative and provide a real benefit to readers."
— Michael Scott Director of Development and Communications
Adopt-A-Watershed



The Thoreau Center for Sustainability:

Located within the Thoreau Center for Sustainability,
The Thoreau Galleries
provides exhibition space for artists and organizations dedicated to expressing the Center's values of sustainability through art.
Gallery Hours:
M-F 9am-5pm
free
415.561.7823
www.thoreau.org
Map and Directions
Please join us in celebrating our new exhibit!
The Thoreau Galleries is pleased to present Graphic Dissent: JusticeDesign for Social Change, an exhibition of works by Bay Area artist Jason Justice.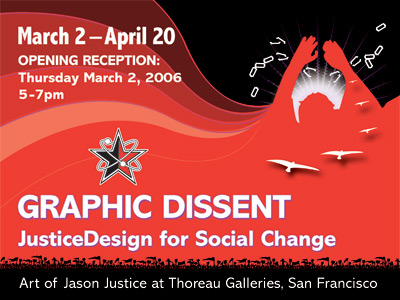 Jason Justice : Graphic Dissent : MARCH 2 - APRIL 28, 2006
Curated by Lena Strayhorn and Bruce DeMartini


SHOW EXTENDED THROUGH APRIL 28!



EXHIBITED at the THOREAU GALLERIES:

Posters, picket signs, cards and more designed for organizations such as the Ella Baker Center for Human Rights, UniteHERE Local 2, Direct Action to Stop the War, Courage To Resist, DanceSafe, UCSC Health Promotion and beyond!
Free and open to the public through April 28, 2006.

NEW! - view photos from the opening reception >>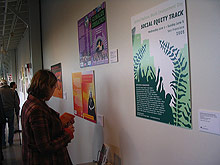 Location: The Thoreau Galleries reside in the Thoreau Center for Sustainability at 1016 Lincoln Boulevard, in the historic San Francisco Presidio National Park. The gallery is situated in 2 long, beautifully enclosed, sunlit porch corridors of the historical building. Hundreds of the Center's tenants and visitors pass through these corridors daily.

Visit Thoreau Galleries web site...
View Map and Directions...


See More Exhibits >>

The Museum of Modern Art
Manhattan, New York
Oct 2005 - Jan 2006
Thoreau Galleries
San Francisco, California
March - April 2006
University of Washington
Tacoma, Washington July - Aug 2006
Harmony Festival
Santa Rosa, California
June 2005-2010
Kismet Gallery
Troy, New York
May 2008
Featured Artist
NorCal Graphic Artists Guild
Aug-Sept 2010
See More Exhibits >>