Exhibited at MoMA:





"Some of the MOST STRIKING products are the simplest, like LURID GRAPHICS on a set of cards warning clubgoers against sexually transmitted diseases — with the word GONORRHEA melting in front of a red sun."
— New York Times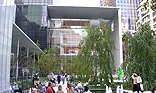 October 16, 2005 - January 2, 2006
ART OF JASON JUSTICE EXHIBITED at MoMA: The Museum of Modern Art
"SAFE: Design Takes On Risk" New York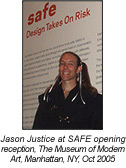 The Museum of Modern Art in Manhattan, New York, one of the most famous art galleries in the world, exhibited work by JusticeDesign graphic artist Jason Justice from October 2005 - January 2006.

The New York Times described Jason's designs as "some of the most striking products" at the exhibit, "with lurid graphics".

Selected designs were displayed as part of a group show tiltled SAFE: Design Takes On Risk, the first major design exhibition at MoMA since its reopening in November 2004. The exhibit included selections from JusticeDesign's DanceSafe harm reduction cards and UCSC sex education cards. SAFE was the highest attended design show at the MoMA for 2006, drawing circa 4,000 visitors per day, or over 260,000 total visits.

The art of Jason Justice remains currently on display as part of the online exhibition at the MoMA.



OPEN TO THE PUBLIC:

SUNDAY OCTOBER 16, 2005 - MONDAY JANUARY 2, 2006

About the Exhibit:
SAFE is an exhibition of more than 300 objects and prototypes designed in order to 1) protect the body and the mind from dangerous or stressful situations; 2) prevent and respond to situations of emergency; and 3) provide a sense of comfort and safety.

The exhibition covers all forms of design, from manufactured products to information architecture. The products will range from refugee shelters to baby strollers, from demining equipment to nutritional information, from protective sports gear, to toys that help children with psychological impairments regain a sense of self and of the world surrounding them. SAFE will explore the fine line that divides function from emotion, as well as the surprising skill and poetry with which the best contemporary designers tread it.

Organized by Paola Antonelli, Curator, and Patricia Juncosa Vecchierini, Curatorial Assistant, Department of Architecture and Design, The Museum of Modern Art.



The Museum of Modern Art
Manhattan, New York
Oct 2005 - Jan 2006
Thoreau Galleries
San Francisco, California
March - April 2006
University of Washington
Tacoma, Washington July - Aug 2006
Harmony Festival
Santa Rosa, California
June 2005-2010
Kismet Gallery
Troy, New York
May 2008
Featured Artist
NorCal Graphic Artists Guild
Aug-Sept 2010
See More Exhibits >>