FEATURED WORK:


5. Peace and Justice (view all) < prev | next >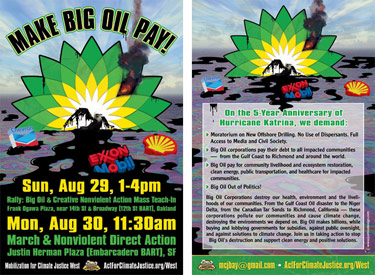 Make Big Oil Pay!
Mobilization for Climate Justice West
Rally and Nonviolent Direct Action in Oakland and San Francisco targeting the offices of BP and Chevron for their roles in environmental and community destruction in the Gulf, the Bay Area, and around the world.
4"x6", front and back. See also the 11x17 posters. Designed 2010.

< prev | next >

Tour Portfolio: 1 2 3 4 5 6 7 8 9 10 11 12





Harm Reduction
Drug Policy Reform
Sex Education
Labor Movement
Peace and Justice
Book Covers
Globalize Liberation
Army of None
Celebration
Visionary Art
Web Sites
Free Graphics
What's New?!