BUY THE BOOK!




Contributors:

D.S. Black
Iain Boal
Steven Bodzin
Chris Carlsson
Mona Caron
Hugh d'Andrade
Lawrence Ferlinghetti
Bianca Henry
Keith Hennessy
Erick Lyle
Quintin Mecke
Alejandro Murgu'a
Annalee Newitz
Joel Pomerantz
Rick Prelinger
Michael Rauner
David Rosen
Marlena Sonn
Alli Starr
Ahimsa Porter Sumchai Mattilda aka Matt Bernstein Sycamore
Michelle Tea
James Tracy
Michael Med-O Whitson
Josh Wilson

Like what you see?
Look at this too:



Globalize Liberation

Like what you see?
Look at this too:



The Battle of Seattle

Like what you see?
Look at this too:



Resistance Behind Bars


6. Book Covers (view all) < prev | next >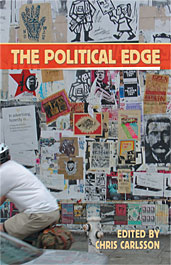 The Political Edge
Edited by Chris Carlsson
a premier City Lights #1 Bestseller!

View Full Cover Spread - CLICK HERE!

Reflections by 25 San Francisco activists and writers on elections, war, urban hell and transformational politics.In the wake of the astonishing popular mobilization on behalf of the campaign to elect Green Party member Matt Gonzalez mayor of San Francisco, The Political Edge analyzes emergent political energies, where they came from, and where they're going.

City Lights Books,
San Francisco, 2004
ISBN 1-93140-405-4, $17.95
Paperback, 5.5"x8.5", 276 pages



Praise for The Political Edge:

"An unexpected gem of a book. The two dozen essays are uniformly excellent... brittle, bristling and brilliant writing. These are mostly young voices, fleeing to San Francisco along with a hundred Armies of the Night-Gay Shame, Punks Against War, Mission Anti-Displacement Coalition, SOMAD, the Green Party & the rest - that keep this city still crazy after all these years."
- Richard Walker, author of The Conquest of Bread: 150 Years of Agribusiness in California (The New Press, 2004) and Professor of Geography, UC Berkeley.

"The Political Edge is a must read for anyone energized by the grassroots campaign to elect Matt Gonzalez for mayor. Full of progressive hope, The Political Edge paints a picture of a City that can be radically better."
- Chris Daly, San Francisco Supervisor, District 6

"'We looked at him and immediately saw our own reflection: someone who lives with roommates, rides a bike to work... reads poetry, goes to gallery openings, and looks somewhat out of place in a business suit.' Could that guy become the mayor of San Francisco? Well, no. But Matt Gonzalez came seriously close. To understand why, pick up City Lights' The Political Edge, engaged and engaging essays edited by Critical Mass cofounder Chris Carlsson. The book gets at what makes this place tick at its grassiest roots."
- Jon Kiefer, San Francisco Magazine

"The Political Edge... uses the unique organizing strategy and palpable energy of the Gonzalez campaign as a jumping off point for a study of alt-politics and the potential for real change in San Francisco."
- BeyondChron.org

"The spirit of democracy is alive and well, and thrives in the people of San Francisco as they fight the expropriators who have run their city for a century and a half... Chris Carlsson has put together a vibrant snapshot of that spirit."
- Chris Clark, editor of Faultline

Chris Carlsson was one of the founders and contributors to the San Francisco magazine Processed World. He is a founding participant of Critical Mass and has edited three books: Bad Attitude: The Processed World Anthology (Verso, 1990), Reclaiming San Francisco: History, Politics, Culture (City Lights, 1998, coedited with James Brooks and Nancy J. Peters), and Critical Mass: Bicycling's Defiant Celebration (AK Press, 2002). His most recent book is a novel, After The Deluge, from Full Enjoyment Books.

Cover photo by Chris Carlsson.
< prev | next >

Tour Portfolio: 1 2 3 4 5 6 7 8 9 10 11 12





Harm Reduction
Drug Policy Reform
Sex Education
Labor Movement
Peace and Justice
Book Covers
Globalize Liberation
Army of None
Celebration
Visionary Art
Web Sites
Free Graphics
What's New?!