BUY THE BOOK!

Download
FREE BOOK SAMPLE:
(PDF: 3.1mb)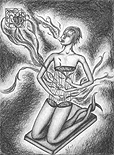 Like what you see?
Look at this too:




Like what you see?
Look at this too:



The Political Edge

Like what you see?
Look at this too:



Globalize Liberation

Like what you see?
Look at this too:



The Battle of Seattle


6. Book Design (view all) < prev | next >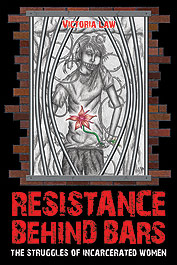 RESISTANCE BEHIND BARS
The Struggles of Incarcerated Women
By Victoria Law

View Full Cover Spread - CLICK HERE!

Vikki Law's new book examines the daily struggles against appalling prison conditions and injustices, and documents organizing and resistance among women incarcerated in the U.S.. Resistance Behind Bars seeks to spark further discussion and research into the lives of incarcerated women and galvanize much-needed outside support for their struggles. Includes art by Rachel Galindo (incarcerated) and designed fom cover to finish by Jason Justice.

PM PRESS
Oakland • 2009
ISBN 978-1-60486-018-4 • $20.00
Paperback • 6"x9" • 260 pages

View Cover Spread Download Free Sampler Purchase the Book





Praise for Resistance Behind Bars:


"Finally! A passionately and extensively researched book that recognizes the myriad ways in which women resist in prison, and the many particular obstacles that, at many points, hinder them from rebelling. Even after my own years inside, I learned from this book. Law breaks the AIDS barrier, recognizing and recording prisoner organizing on HIV as resistance against stigma and medical malpractice in the prison system."
- Laura Whitehorn, former political prisoner

"Written in regular English, rather than academese, yet full of fire, this is an impressive work of research and reportage. I hope you're able to get this to a greater audience, and that it sparks awareness and resistance. Well done!"
- Mumia Abu-Jamal, death row political prisoner and author of Live From Death Row and We Want Freedom: A Life in the Black Panther Party

"Victoria Law's eight years of research and writing, inspired by her unflinching commitment to listen to and support women prisoners, have resulted in an illuminating effort to document the dynamic resistance of incarcerated women in the United States. Her work focuses not only on renowned political prisoners, but on the lives of ordinary women of all colors and ages, many being mothers separated from their children. Law makes clear that besides their myriad means of struggle and mutual assistance, they have one thing in common: they are poor and working- class, without the resources needed to achieve what passes for justice in the United States. A prison abolitionist herself, the author is well aware that in that long fight, women prisoners deserve support and honor in their daily efforts."
- Roxanne Dunbar-Ortiz, historian, feminist, indigenous rights activist, author, most recently of Roots of Resistance: History of Land Tenure in New Mexico

"Resistance offers us a much-needed, much broader and nuanced definition of resistance - a woman's definition based on the real material conditions of women. I hope that when one reads about the experiences of women prisoners' organizing and resistance, the reader, both woman and man, will begin to glimpse the possibilities and necessity of such forms as we continue to struggle for a more just and equal world free from all forms of oppression. If women worldwide are unable to liberate themselves, human liberation will not be possible."
- Marilyn Buck, anti-imperialist political prisoner, activist, poet and artist

"Constituting 6% of the U.S. prison and jail population, but over 130,000 in number, and growing, women are an all but invisible segment of the prison population. The issues unique to women, and their behind-bars struggle for justice and equality, are even more ignored by mainstream media than that of their male counterparts. Resistance Behind Bars is a long-needed and much awaited look at the struggles, protest and resistance waged by women prisoners. Excellently researched and well documented, this incisive book brings to light aspects of imprisonment unique to women, how the gender-common issues of captivity impact women and the response, protest and resistance to captivity by women. Highly recommended for anyone interested in the modern American gulag."
- Paul Wright, former prisoner, founder/editor of Prison Legal News, and coeditor of The Celling of America: An Inside Look at the US Prison Industry, Prison Nation: The Warehousing of Americašs Poor and Prison Profiteers: Who Makes Money from Mass Incarceration

"Repression tries not only to crush but to quiet. But as Vikki Law shows in this multifaceted book, all that is unseen is not absent. Guided by years of anti-prison organizing and a palpable feminist practice, Law documents the many ways women challenge the twin forces of prison and patriarchy, each trying to render women invisible. In the face of attempts at erasure, women prisoners resist to survive and survive to resist. We would do well to pay attention."
- Dan Berger, Outlaws of America: The Weather Underground and the Politics of Solidarity

"By documenting the myriad rebellions of the most despised and abused, Law has fulfilled a task long deferred by prison activists. A meditation on the 'weapons of the weak' that challenges dominant conceptions of what constitutes resistance and liberation, Resistance Behind Bars deserves a wide readership not only among those disturbed by mass incarceration, but by all students of the human spirit in the face of adversity."
- Daniel Burton-Rose, author, Guerrillas in Our Midst: The George Jackson Brigade and The Anti-capitalist Underground of the 1970s, co-editor, The Celling of America: An Inside Look at the U.S. Prison Industry

"There are too few books written about womyn in prison. Many focus on these womyn as victims only. It's a fact that a huge percentage have been abused as children or by husbands and certainly by the so-called justice system that overpunishes and neglects their every basic human need. But this book is different. Its focus is on the herstorical resistance of womyn prisoners! Not just resistance to their local jailers but often resistance to the prison-industrial complex and the 'masters of unreason' who own and profit from it. This is necessary information for all of us to have in our consciousness, especially our abolitionist consciousness."
- Bo (r.d.brown), former political prisoner, founding mother of Out of Control: Lesbian Committee to Support Women Political Prisoners and volunteer with the Prison Activist Resource Center



From the back cover:


In 1974, women imprisoned at New York's maximum-security prison at Bedford Hills staged what is known as the August Rebellion. Protesting the brutal beating of a fellow prisoner, the women fought off guards, holding seven hostage and taking over sections of the prison.

While many have heard of the 1971 Attica prison uprising, the August Rebellion remains relatively unknown, even in activist circles. Resistance Behind Bars is determined to challenge and change such oversights. As it examines daily struggles against appalling prison conditions and injustices, Resistance documents both collective organizing and individual resistance among women incarcerated in the U.S. Emphasizing women's agency in resisting the conditions of their confinement through forming peer education groups, clandestinely arranging ways for children to visit mothers in distant prisons and raising public awareness about their lives, Resistance seeks to spark further discussion and research into the lives of incarcerated women and galvanize much-needed outside support for their struggles.



Victoria Law is a writer, photographer and mother. In 1996, she helped start Books Through Bars - New York City, a group that sends free books to prisoners nationwide. In 2000, she began focusing specifically on women in prison. Since 2002, she has worked with women incarcerated nationwide to produce Tenacious: Art and Writings from Women in Prison, and has facilitated having incarcerated women's writings published in larger publications such as Clamor magazine and the website Women and Prison: A Site for Resistance.>


< prev | next >

Tour Portfolio: 1 2 3 4 5 6 7 8 9 10 11 12





Harm Reduction
Drug Policy Reform
Sex Education
Labor Movement
Peace and Justice
Book Covers
Globalize Liberation
Army of None
Celebration
Visionary Art
Web Sites
Free Graphics
What's New?!