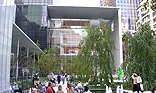 October 16, 2005 - January 2, 2006
JUSTICEDESIGN NOW ON EXHIBIT
MoMA: The Museum of Modern Art
Graphic design by Jason Justice on display!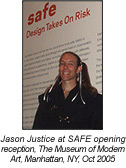 The Museum of Modern Art in Manhattan, New York, one of the more famous modern art galleries in the world, is currently exhibiting work by JusticeDesign graphic artist, Jason Justice.

The New York Times described JusticeDesign's sex ed risk reduction cards as "some of the most striking products" at the exhibit, "with lurid graphics".

Selected designs are on display as part of a group show tiltled SAFE: Design Takes On Risk, the first major design exhibition at MoMA since its reopening in November 2004. The exhibit includes selections from JusticeDesign's DanceSafe harm reduction cards and UCSC Health Promotion sex education STI Risk Reduction cards.



OPEN TO THE PUBLIC:

SUNDAY OCTOBER 16, 2005 - MONDAY JANUARY 2, 2006

About the Exhibit:
SAFE is an exhibition of more than 300 objects and prototypes designed in order to 1) protect the body and the mind from dangerous or stressful situations; 2) prevent and respond to situations of emergency; and 3) provide a sense of comfort and safety.

The exhibition covers all forms of design, from manufactured products to information architecture. The products will range from refugee shelters to baby strollers, from demining equipment to nutritional information, from protective sports gear, to toys that help children with psychological impairments regain a sense of self and of the world surrounding them. SAFE will explore the fine line that divides function from emotion, as well as the surprising skill and poetry with which the best contemporary designers tread it.

Organized by Paola Antonelli, Curator, and Patricia Juncosa Vecchierini, Curatorial Assistant, Department of Architecture and Design, The Museum of Modern Art.

Visit Museum of Modern Art web site...